Family Resource Center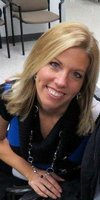 Karie Pepper
Hello and welcome to the Family Resource page! :)
My name is Karie Pepper and I have worked with Family Resource/Youth Services Centers for going on almost 18 years now. I worked at Hopkinsville Middle School for 12 years as the clerk in the Youth Service Center and at Holiday as the Family Resource Director for four years.
Family Resource Centers are designed for helping students and their families by breaking down non-academic barriers. I work closely with our administrators and teachers to help ensure your student is able to attend school and function as his or her best. If you are interested in volunteering at South Christian at any time, please contact me to fill out a yearly background check. This allows you to chaperone field trips, work in the school and help our teachers as well as office staff.
I hope to see you soon at one of our many school functions! Please check the schools website and calendar for important information as well as your student's folder daily.
Mrs. Pepper
270-887- 7353
karie.pepper@christian.kyschools.us