South Christian Library Media Information Center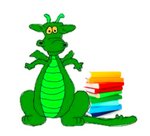 South Christian Library Dragon
SC Library Media Center serves students and staff for grades PreK - 6th grade. Books, magazines, newspapers, DVD's, online databases and online reading programs are some of the resources available to the South Christian community.
Student behavior is enhanced by using South Christian Bucks. If a student shows behavior that goes above and beyond what is expected that student will be rewarded with a South Christian buck. I try to give one or two students each class period a South Christian Buck. Classes save their bucks and at the end of each grading period they can be traded in for rewards. The more bucks the class saves the better the rewards can be. South Christian Bucks is part of our PBIS program which we use to identify Positive Behaviors.
The specials teachers have started a reward system for grades K-5. If the student follows our guidelines, then each student will receive a reward on the last H day of every 9 weeks. Those not receiving the reward, will still receive specials on that day; however, it will be an alternate activity. To receive the reward the student must not receive a mark, minor, or major referral from any specials teachers. Each 9 weeks the slate will be wiped clean and everyone can work toward the reward day.
For SnowSmart information please see Natalie Foster's page. Thank you!