Non-Traditional Instruction (NTI)
STUDENT NTI RESOURCES
This is where assignments will be posted.
A Way to sign into many learning platforms.
K-2nd Grade Phonics Program
Reading and Math
TUTORIALS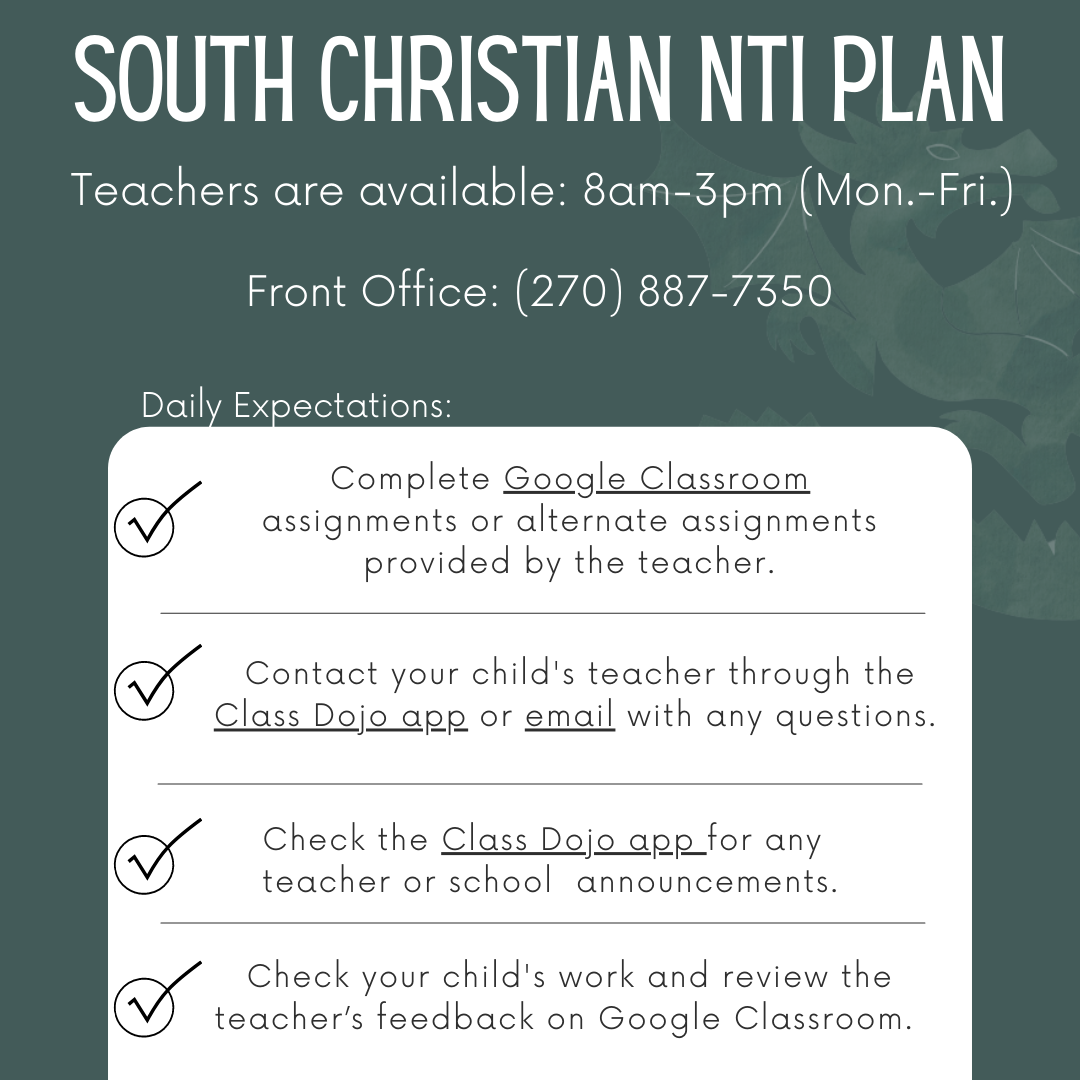 There may be times throughout the year where our school may transition to Non-Traditional Instruction (NTI) due to hazardous weather or recommendations by state or federal officials. When we are operating under an NTI instructional framework, children will not attend in person classes, but will instead engage with their classwork by using a computer or other device to access Google Classroom.
Complete Google Classroom assignments or alternate
assignments provided by the teacher.
Log in EVERY DAY to view and complete your child's assignments for each day. All student logins follow the same pattern. Contact your child's teacher via Class Dojo to get their specific information.
email: First.lastname@stu.christian.kyschools.us
password: ccps####
Use the Class Dojo App to contact the teacher and view any teacher or school announcements.
https://home.classdojo.com/...
Check your child's work and review the teacher's feedback on Google Classroom.
*ADDITIONAL NTI INFORMATION*
DEVICES: There is an app available for Google Classroom so work can be completed on phones as well as tablets, laptops, and desktops. Please utilize any device(s) your family has access to. South Christian is committed to removing any barriers that would keep a child from participating in their classwork.
Please call the front office at (270) 887-7350 to communicate any barriers your family may be experiencing.
PARTICIPATION: At least two grades will be taken each week per subject area. It is imperative that assignments are completed. Participation will be monitored by your child's teacher and school.
HOURS OF OPERATION:
If your student needs extra help or doesn't understand the assignment, teachers will be available each day from 8-3. You may contact them through email, ClassDojo, or even calling the school
Notifications & Alerts when the district utilizes NTI Days, students and parents will be notified immediately by the following methods of communication:

Local Radio & Newspaper Media (WKDZ, WHOP & the Kentucky New Era), News Channel 2, 4, 5 & Fox 17, Infinite Campus Messenger All-Calls, CCPS Website & School Websites, Social Media (Facebook & Twitter Accounts), CCPS School Closing Hotline (270) 707-1900.